---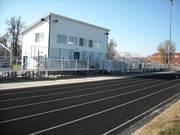 Press Box The Press Box becomes very active during football games and track meets here at Goessel Jr./Sr. High School.
---
Top-Notch Facilities
Click the photos on the right for a slideshow.
Here at USD 411, we are very fortunate to have such nice and well kept facilities. These facilities are home to many football, volleyball and basketball games as well as track meets and other extracuricular activities. Students are able to learn and build relationships with both other students and teachers here at the Goessel school district.