---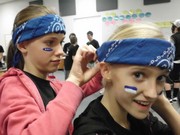 Page & Eden getting ready to rock with the pep band!!!
---
Threshing Days Marching Music
Participating in the Threshing Days parade is a long tradition of the Goessel Band. This year ALL students who had played in band during the 2011-12 school year, from 5th - 11th grade, can play.
Because the parade is over the summer months, participation is not required, but strongly encouraged for all students. PLEASE E-MAIL MR. TIERNEY WHETHER YOU WILL OR WILL NOT ATTEND.
Here are the details for the week:
THRESHING DAYS PARADE, SAT. AUG. 4TH
@ HS - 9:30AM
PRACTICES @ HIGH SCHOOL BAND ROOM
TUES, JULY 31 7-8PM (DRUMLINE 6-8PM)
THUR, AUG. 2 7-8PM (DRUMLINE 6-8PM)
FRI, AUG. 3 10-11AM
If you need the music to practice and MEMORIZE, click below to download it here and print out the part you need.