---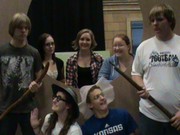 Intro class posing in front of the set for the play. Borrowing a few props for the picture... what can I say, we like to have fun!
---
Halftime Entertainment by Mr. Tierney's Intro to Music class
by Robert Tierney
October 14, 2011
If you've been to a home football game this year you may have noticed the new halftime entertainment.  Mr. Tierney's Intro to Music Class has been performing as a rock band during halftime at the football games as a part of  learning how popular music works and is performed.  
The two songs performed so far were Adele's "Rolling in the Deep" on September 30th and the band Ok Go's song "This Too Shall Pass" on October 7th.  If you weren't at the games but would like to see their performances or just want to watch it again, check them out on YouTube!
Click here to go to the Goessel Band YouTube channel:
http://www.youtube.com/user/GoesselBand#p/a/u/2/bJzpEMXJGkI
Come to the next home football game on Thursday Oct. 27th to support the Bluebirds and hear what's next from this exciting group!
In addition to playing together as a rock band, learning music theory in form and function through popular music, the class also has been involved in other projects.  They have all been working hard together to build the set for the upcoming school play.  Now almost finished, the project has been an excellent team builder and real life education in basic construction skills.  The next project will be for the class to host and organize a school wide Variety Show to be held on November 18th during school as a part of the "Can the Teacher" day.  It's going to be great!
2011-12 Intro to Music Class members are:
Jeff Hall
Aleia Hanes
Johanna Hoffman
Isabelle Houben
Alex Schmidt
Gracie Sullivan
Braden Unruh