---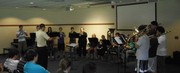 Mr. Tierney directing the full Goessel Brass Ensemble in performance at the Tabor College Fine Arts Center
---
Students attend Masterclass by world renowned American Brass Quintet
Tabor College Fine Arts Center

The American Brass Quintet is a legendary chamber ensemble in the world of classical music. We were lucky enough to participate in a masterclass held at Tabor college a day before their performance in Hillsboro. The quintet is in residence at the prestigious Julliard school of music in New York City and is known internationally as one of the finest brass groups ever.
17 students from Goessel performed in a large brass ensemble for the group and received coaching. Smaller classes broke off for each individual instrument, and we were delighted with a short performance demonstration from the quintet.
It was truly an amazing experience for all who attended.
The Goessel Brass Ensemble: